WJ Officers Take Home Awards in 1st Annual Wasatch Front Police Motor Rodeo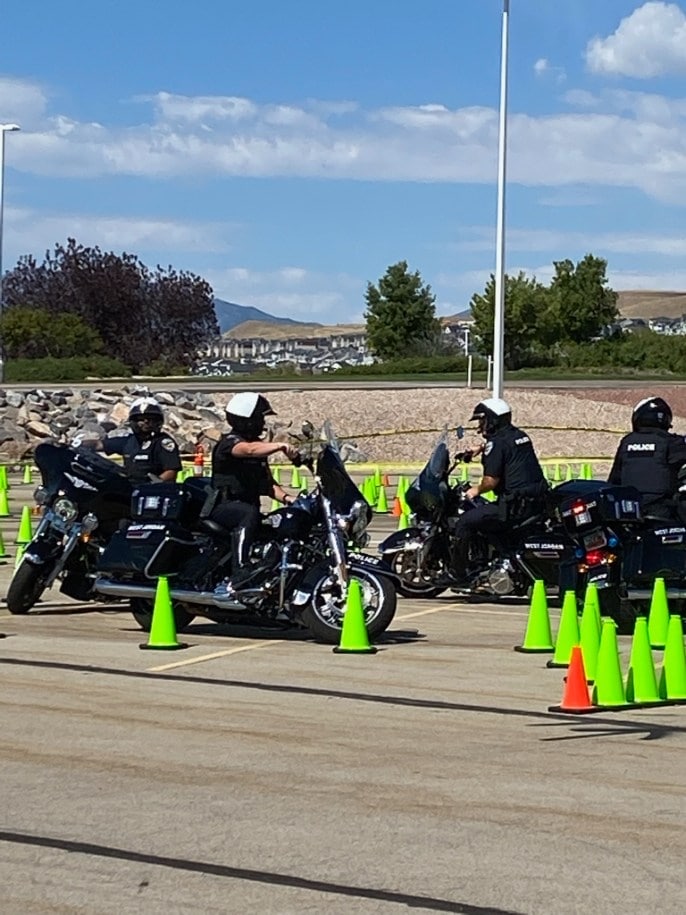 Cheers, barrel races, and awards are things you would expect at a rodeo – but this event featured Harleys instead of horses.
The West Jordan Police Department's Motor Unit participated in the first annual Wasatch Front Police Motor Rodeo and placed second in pair riding and third in the Four Man Team event. Motor Sergeant Andrew Hercules was one of the four officers to earn the honor and compared the event to something else West Jordan is often honored for: Rodeos.
"Pair riding – it's basically a barrel race, like a horse barrel race. Two motorcycles are next to each other, and they have to do the same pattern around the barrels, it's timed too," explained Sgt. Hercules. "There's also a three-foot tether between the two bikes and if you get more than three feet away from your partner, it breaks."
While this event sounds like a competitive day spent outside with other police departments, it also gives officers an opportunity to feel more comfortable on their motors and stay safe on the roads.
"These events prepare us for real-life situations on so many different levels," said Sgt. Hercules. "The tight turns around cones help us with avoiding obstacles at high speeds. It also prepares us to navigate around tar snakes on the road that get slippery in the heat. Those tar snakes are like banana peels in Mario Kart when you're on a motorcycle."
Aside from safety and the handling of the motor, this event also builds a sense of teamwork for officers. While they participate, they are literally tethered together, where one goes the others must follow.
Along with Sergeant Hercules, Officer Steve Bills, Officer Steve Hutchings, and Officer Derek Brummel competed.
Sergeant Hercules says he is really proud of his unit and looks forward to competing next year.